Van Taxi
7 passengers and 7 regular suitcases max.
Pre-arrangement Service and for Long distance trip only (i.e. Incheon Airport pick up)
No accident records for more than 25 years.
Van should be requested at least 1 day prior to your pick up time.
Starex Limousine Van
▷ No pets (except service dogs) are allowed without cages for safety and sanitary
reasons to follow the regulation, offence code a-3, B-17, 190-1.
▷ No drivers are allowed to transport an child under 4 years of age
or 45 pounds without a car seat to follow the USFK regulation, chapter 4-8 driver
responsibilities.
▷ Drivers can ask passengers who vomit in their cabs to pay a standard,
city-approved fine of 150,000 won.
▷ Drivers who deliver any luggage without passengers are suspended for 30 days
for penalty. It's illegal.

Airport Pick up
We need your contact number, flight number, full name, number of passengers
and luggage, destination to arrange.
After clearing the customs, please come to our pick up point below.
Name board service charge is 5,000 won extra.
Toll fee is your responsibility and it will be added to your taxi fare.

Pick up locations
| | |
| --- | --- |
| Incheon Airport Terminal 1 | Gate 1 by USO desk |
| Incheon Airport Terminal 2 | Gate 6 by 7-11 store |
| Gimpo Airport (International) | Gate 1 by information desk |
| Gimpo Airport (Domestic) | Gate 6 |
| Daegu Airport | Gate 1 |
Van Taxi Fare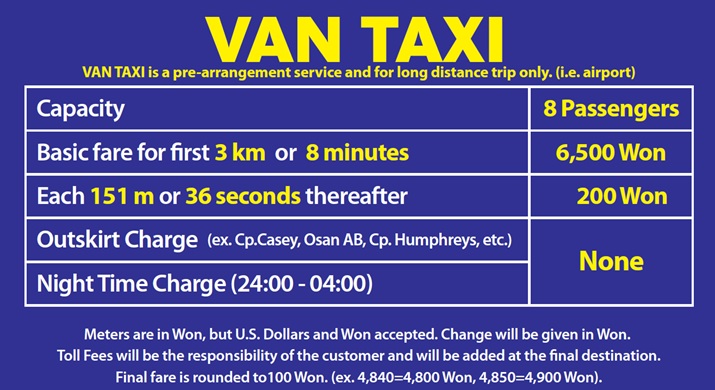 ▷ Korean won, US dollars, and Credit Cards are acceptable.